Be One! Invite One! The Power of 100!
Next 100+ Women Who Care in East County
Returning to In-Person Events
Our upcoming meeting, Thursday, August 24th, 2023, will be held in our original format.  This means that the members attending will be asked to nominate their favorite non-profits.  Then we will pick three out of a hat.  Each charity will be given approximately five minutes to share their best reasons why 100+ Women Who Care in East County should choose them.
Thursday, August 24th, 2023 | 6:30-7:30 PM
Gresham Center for the Arts Foundation – Little Theatre
4th Quarter Meeting
November 9th 2023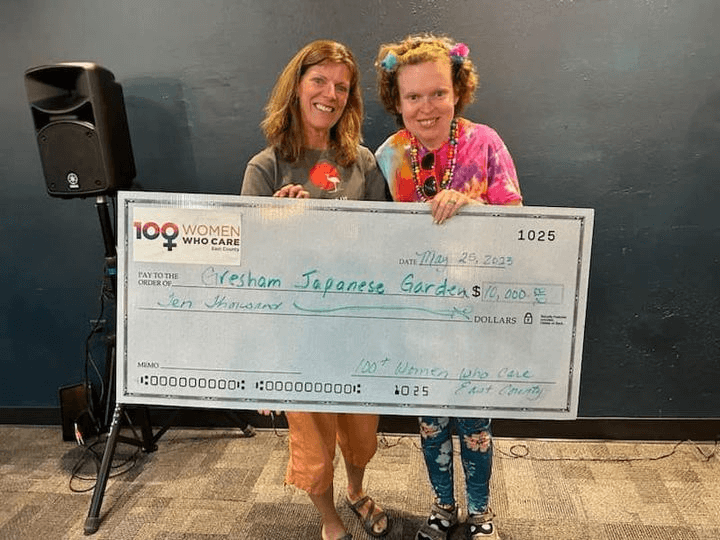 See our happy 2nd Quarter winners below! We were even able to get them a matching grant from the Schulze Family Foundation!
How We Have Helped the Gresham Area
Most recently, 100+ Women Who Care were saddened to hear that both the annual Rotary Steak Fry and Soroptimist Teddy Bear parade were cancelled due to safety and health restrictions.  Both Soroptimist International of Gresham and the Rotary Club of Gresham were nice enough to attend our latest meeting and share details about the programs funded by the cancelled events.
 Soroptimist International of Gresham is a group of ladies working to invest in women and children in the greater Gresham area.   The annual Teddy Bear Parade has been their largest fundraiser drawing thousands of spectators and participants.  Unfortunately 2021 did not allow for this gathering.  As a result the number of women and children they have the capacity to serve has been greatly diminished.
Similarly, the Rotary Club of Gresham holds a Steak Fry with raffles and prizes that will not occur.  This event has historically been the largest fundraiser and funds a number of scholarships for local East County students.  Without the Steak Fry a deficit of scholarships in our community will exist compared with previous years.
No Teddy Bear Parade, No Rotary Steak Fry – No Problem,  100+ Women Who Care Can Help!
The Gresham area and East County is strong and resilient.  Together our community is stronger!
Camp Collins 
Our very first meeting raised $5,500 for YMCA Camp Collins.  This allowed them to provide more scholarships than ever before to local children in our community.
Trauma Intervention Program NW
Next, after popular vote and hearing an impactful explanation of their mission, we were able to donate $8,500 to TIP NW.  TIP is a group of specially trained citizen volunteers who provide emotional aid, practical support, and resources to victims of traumatic events and their families in the first few hours following a tragedy.  This influx of cash has allowed them to train more volunteers and meet the increased number of neighbors in need of their support. 
My Father's House 
120 Women chose to support My Father's House with $12,000.  My Father's House Community Shelter is a family shelter located in East Multnomah County. They provide a safe environment for 30 families at a time, a place families can stay together as they address their spiritual, physical, emotional, and relational issues and needs.
Boxes of Love 
The Boxes of Love initiative partners with local area hospitals to provide babies and children being discharged from the hospital into foster care with a Box of Love.  Many of our members were completely unaware of this charity but once they heard all the good deeds, they voted to help.  In just one hour, the 100+ Women Who Care raised $10,400 to help create more boxes in order to address the overwhelming need.
Serendipity Center
Serendipity is a non-profit therapeutic school serving at-risk students whose complex needs prevent success in other settings.  When the Serendipity Center was nominated and the ladies heard how just a few dollars could make a big difference in so many young lives, the wheels were set in motion.  In just one hour during the meeting each of the 115 women donated $100 each.  These efforts generated $11,500 for the Center and made a huge impact on their ability to serve the at-risk youth struggling in our area.  
Our First Virtual Meeting
The steering committee chose SnowCap Community Charities, Birch Community Services, and Meals on Wheels as our three charities.  The director of each charity spoke on Zoom sharing their current struggles and wish list as well as a direct link to donate.  It was a challenge tracking donations but those non-profits estimate that we helped them raise $13,617 including using our donations to meet matching grant challenges.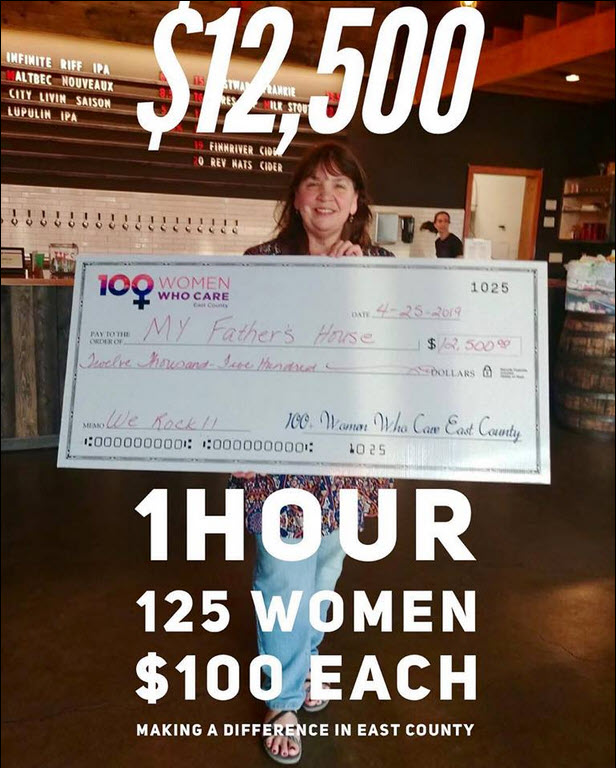 Gresham Barlow Education Foundation
The Gresham-Barlow Education Foundation provides funding to enhance and enrich the educational experience of the students in the Gresham-Barlow School District.  The funds donated by the 100+ Women Who Care helped to make the Tomorrow Bus a reality.  It is a mobile science and engineering lab in a converted school bus.
The Tomorrow Bus visits elementary and middle schools in the Gresham-Barlow district bringing fun, hands-on science lessons. 
Gresham Senior Center
Our local Senior Center won our hearts with tales of  how they provide older adults the opportunity to remain involved and active in their community.  Many of their projects directly benefit our community with love and support.  The $9500 raised that night was slated to help them purchase a new quilting machine.  However, they have now used the funds to stay afloat during the pandemic.  They are immensely grateful as they continue to serve the seniors of our community.  

We are so thankful and appreciative to our local businesses for all the support they have shown helping to keep our community strong.
Please show our sponsors some LOVE when possible.  Thank you!
Join us for the meeting and bring a friend!


How It Works
100+ Women Who Care is a group of women who gather four times a year for a one-hour meeting.  We learn about local charities and each donates a $100 check to a charity that the group selects by popular vote. This combined donation of $10,000 makes a real impact, without time-consuming fundraising events and planning.
How to Join
We are a bunch of amazing women and should all be proud of what we are doing.

We are currently 100 members and hoping to grow to by 10% each time we meet.

To join 100 Women Who Care East County, complete a Membership Form and return it via mail, email, or bring it to the next meeting. 
Not Ready to Join?  Register for our next event. 
BE OUR GUEST.

SPECIAL THANKS TO OUR
2021 IN KIND SPONSORS
We couldn't do it without your generous donations!